About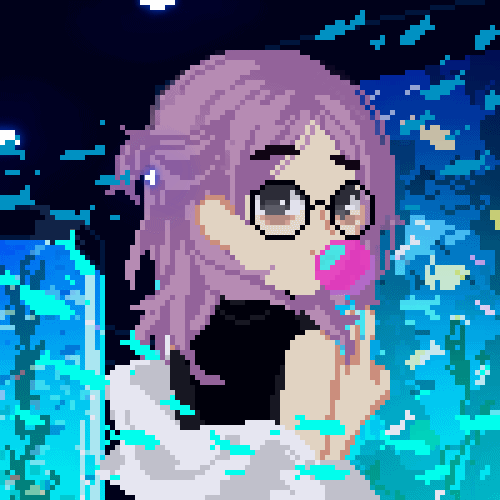 I've been putting this off for months but here I am, finally writing and about section. Or trying.
I tend to change my nicks online fairly often, and right now I'm using Envy, so you can call me that.
My main interests right now are fandom and the internet. I love learning about their history, reading meta, and looking at people's sites and blogs.
I'm more attached to fandom as a concept than to any particular fandoms, and I haven't really been active in any since VLD (such a great experience! didn't scar me at all!!). Unless you count ~looking at Hypmic fanart and sharing it even though I don't know the name of half of the cast~ as being part of a fandom.
And you know what? I'll keep writing this later. I'm a boring bitch and I'm tired of trying to come up with things to say, I just want to share my stupid site already. Bye.
SITE-ID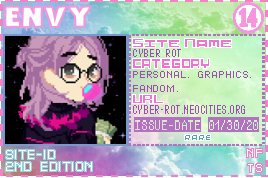 This is my card for the TCG created by Scerika, check her site to get your own!
Here is my deck, feel free to leave a comment on my guestbook or my profile if you want to trade cards <3
find me elsewhere

quizzes

Raw evil score: 31.11%

Take the Anime Accessory quiz!
Your rainbow is shaded
blue.
What is says about you: You are a tranquil person. You appreciate friends who get along with one another. You share hobbies with friends and like trying to fit into their routines.
Find the colors of your rainbow at spacefem.com.
The Dante's Inferno Test has banished you to the Sixth Level of Hell - The City of Dis!
Here is how you matched up against all the levels:

Take the Dante Inferno Hell Test
| | | |
| --- | --- | --- |
| Greed: | Medium | |
| Gluttony: | Medium | |
| Wrath: | Medium | |
| Sloth: | Very High | |
| Envy: | Very Low | |
| Lust: | Medium | |
| Pride: | High | |

The Seven Deadly Sins Quiz on 4degreez.com

What Anime Flower Symbol Are You?
Hosted By theOtaku.com: Anime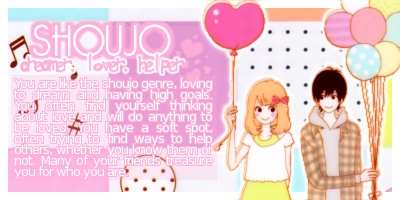 What Genre Of Manga Are You?
Hosted By theOtaku.com: Anime

What Anime Weapon Would Work Best For You?
Hosted By theOtaku.com: Anime

What Anime Hair Color Best Suits Your Personality?
Hosted By theOtaku.com: Anime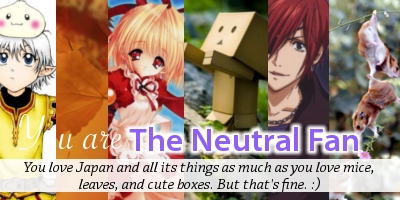 What Kind Of Japanese Fan Are You?
Hosted By theOtaku.com: Anime