Welcome to my site!

I've always been in love with the idea of having a personal site like this. However, I don't really have much to offer so this will be mostly a place to collect cool graphics and other stuff I find online.
Thank you for visiting~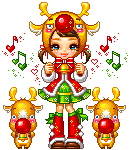 (\__/)
(='.'=)
(")_(")


This is Bunny. Copy and paste Bunny into your webpage to help him gain world domination.


Member of the Internet Exchange