Raw evil score: 31.11%

Take the Anime Accessory quiz!
Your rainbow is shaded
blue.
What is says about you: You are a tranquil person. You appreciate friends who get along with one another. You share hobbies with friends and like trying to fit into their routines.
Find the colors of your rainbow at spacefem.com.
| | | |
| --- | --- | --- |
| Greed: | Medium | |
| Gluttony: | Medium | |
| Wrath: | Medium | |
| Sloth: | Very High | |
| Envy: | Very Low | |
| Lust: | Medium | |
| Pride: | High | |

The Seven Deadly Sins Quiz on 4degreez.com

What Anime Flower Symbol Are You?
Hosted By theOtaku.com: Anime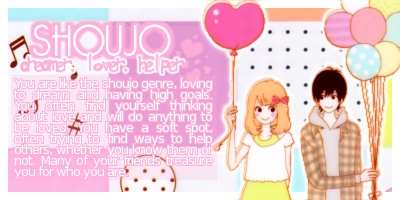 What Genre Of Manga Are You?
Hosted By theOtaku.com: Anime

What Anime Weapon Would Work Best For You?
Hosted By theOtaku.com: Anime

What Anime Hair Color Best Suits Your Personality?
Hosted By theOtaku.com: Anime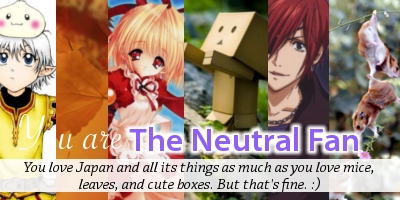 What Kind Of Japanese Fan Are You?
Hosted By theOtaku.com: Anime